Customize Member Profile Page
The Member Profile page is what your customers will see when they complete any Profile updates or click on any link to view their account. From the Member profile page, Customers can see their point totals and available offers.




You can customize this page in the following ways:

Change what you call "Points" for your program
Add a background picture which will highlight the member point totals
Choose to display any of the additional 10 point totals that may be used by your POS system.  For each of these, you can choose a photo and enter a description. 
The logo & background color will be consistent with settings you have for other pages.
Note:  Point Balance #10 is always used for gift card balance.

To customize how this page looks, navigate to My Account, Account Settings and click on Point Settings. 
Here you can change the name for your Points program and select an image which will be in the circle behind the total points.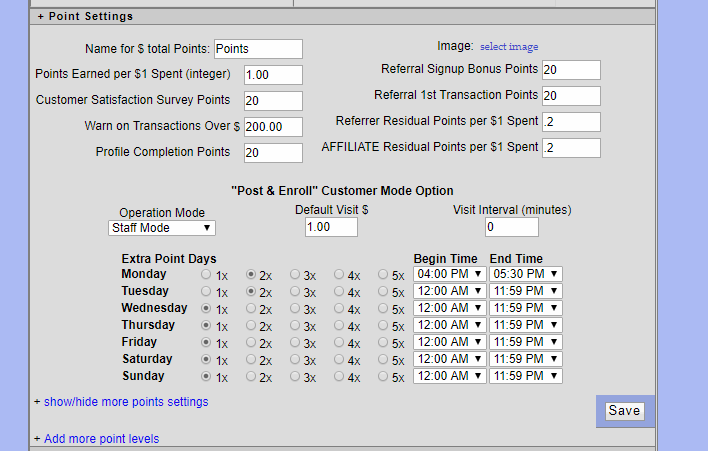 If your POS system supports the "Additional Point Balances", you may be using those for special programs such as Buy 10 get 1 free coffee.   Click on the "Show / Hide More Points settings" link to see these options.

Here you can select any point balance that you wish to show on the profile page.   Select an image and give it a name (the name will not appear but is used for internal reference purposes).  The Description will appear, and should tell your customers what this promotion is all about.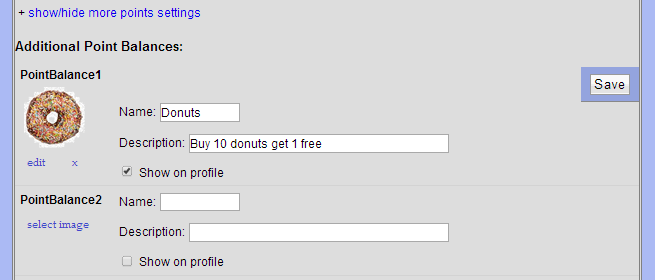 The easiest way to preview your changes is to select any member record, edit, and click on the "Member Profile" button about halfway down the screen.