Using the Rewards App Staff Mode
Need a quick and easy way to use the Granbury SalesBuilder rewards program on your computer or tablet?   If you are not using an integrated point-of-sale system, our rewards app is the easiest way manage your program. Learn more about reward app settings here.

Step 1:  Download the app for iPad or iPhone.  Look for "Granbury Rewards" in the app store.  If you are using an Android device or just a computer, no worries.  Just bookmark a shortcut to your reward program URL (or www.granburysalesbuilder.com).  

Step 2:  Set up a cashier account.  In SalesBuilder, go to My Account, Manage Users.  Create a new user, and give permissions only to "Post Transactions", for a single location. Make sure none of the other permissions are checked.

Step 3:  Log in using this cashier account. You'll be directed to the Rewards App look up screen:



Enter a phone number or email to look up a customer.   
If a customer is found, you can enter a dollar amount and press Submit to record the transaction. 
If a customer has offers available, you can select the offer and press USE before you submit the transaction.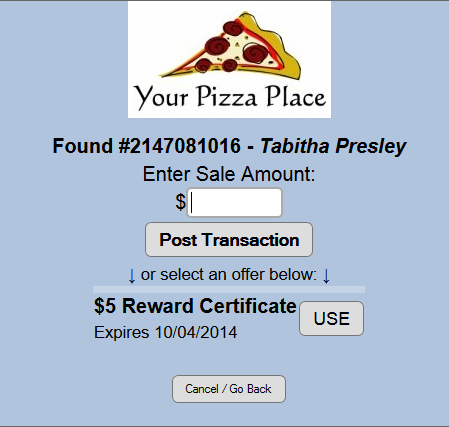 If a customer is not found, you will be directed to the Enroll screen. 
Enter the dollar amount for the transaction.  You can optionally enter the customer name, e-mail, phone, etc.   You must enter at least the e-mail OR SMS capable phone (if texting is active on your salesbuilder account).  If an e-mail is entered, the customer will be enrolled in the e-mail program. If not, they will receive an invitation to join via text.   Be sure to remind the customer to respond YES to the text to opt-in and join.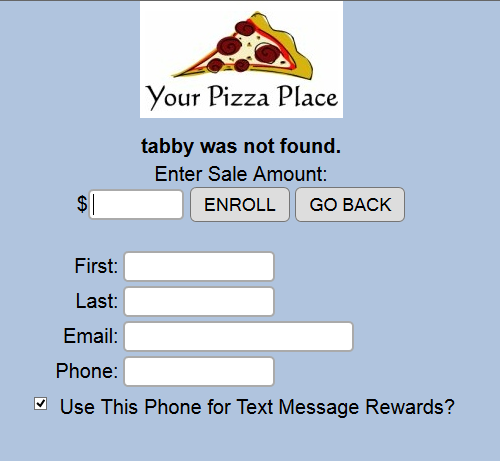 Note, you can also reach this function from Salesbuilder - navigate to Transactions and choose Post & Enroll. 

Watch a video on this process here: http://youtu.be/wcWq3tghNSM
Learn to use the rewards app in customer mode here: Using the Rewards App Customer Mode